Our houseplans in Baan Lungpung (6)
We've been very busy with organising our migration to Thailand once the house is ready. So, sorry for the 7 weeks since my last post.
Alan emails the progress of the house every few days. From these pics it's nice to see how houses are built in Thailand: completely different than in Europe!
2nd week of June 2010: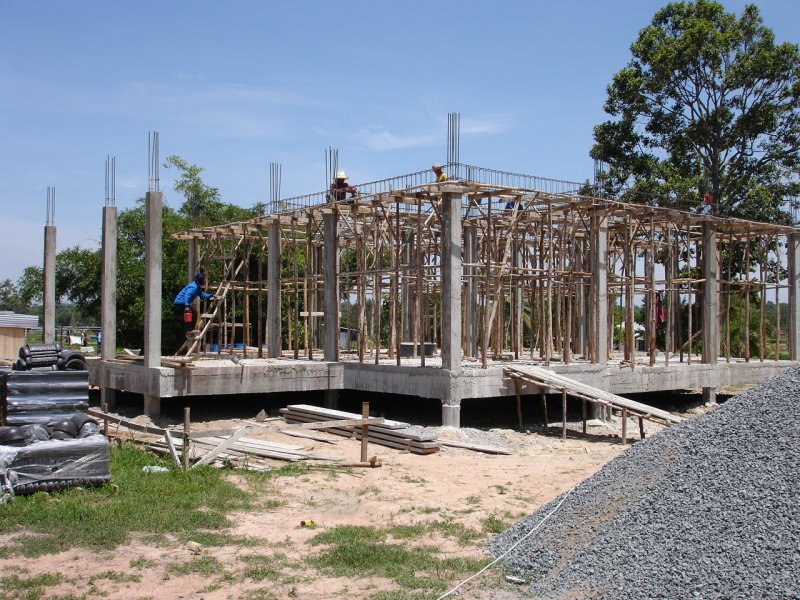 Coincidence? Incredible!
Sometimes things happen in life, you wouldn't believe if you saw it in a TV soap. What to think about this: our house in Baan Lungpung is the last house from the village, on the road to Thatum. No, wrong, there is one more house - we have a neighbour. We've met her in November last year when my wife and I inspected the plot.
A week later we went to Pattaya to visit a Dutch friend of ours for celebrating the birthday of Noi, his wife. They moved to Thailand a year before. Although it was never their plan, they got the opportunity to take over a beerbar in Pattaya Naklua. Noi asked my wife Jiranee if she knows somebody called 'Kip', living in Baan Lungpung, this is her photo? 'Sure I do, she's our neighbour!'
What was the case: our neighbour had asked her if perhaps she could come to work in their bar! Mind you: this happened long before we met our neighbour and before we knew our friends had this bar!
What are the odds? 66 million people in Thailand, 15,000 bars in Pattaya, and we have 1 neighbour...
(
Video I made from the birthday party)
​
Holiday in Thailand, visiting the site, meeting Alan
Alan suggested us to come to Thailand to choose tiles and other finishing if we wanted the house completely to be to our taste.
So we planned our holiday from 26 June till 24 July. June the 27th we arrived in Thailand. In the next few days we visited some Home Markets in Surin city where we picked out some nice tiles and looked at some other house stuff.
4 July we had a long meeting with Alan and Fon in Baan Lungpung. In Holland I'd make sketches of both floors, bathroom layouts, stairs design, things like that - had them printed out and gave the whole folder to Alan. We went through all questions, wishes and remarks.
We wanted to have parquet on the first floor. Alan explained that this is quite an expensive extra: although we saw some nice parquet for 530 Baht per square meter, the endprice is about 3 to 4 times higher because the preparation and extra work (sanding, varnishing etc). Well, we had this on our wishlist for so long that we decided to do it anyway, despite the extra costs - it's only money... (that's wat my wife said, anyway :-/ )
About the style of our house: very soft yellow paint for all inside and outside walls, creamwhite for ceilings and roofboards; for the whole ground floor we've chosen creamwhite 60x60 cm tiles, for the first floor dark parquet, except for the two front bedrooms where we'll have creamwhite tiles; for all 3 bathrooms gray floortiles and beige walltiles up to 170 cm, white paint above; for the stairs black granite tiles. No fringe or special decoration. (Style not very 'Thai-like', but that's our taste - and you can't argue about taste, can you?).
After we've been through all this, it was already late in the afternoon. We said goodbye to Alan and Fon and wished them a nice holiday in Spain. A well-deserved holiday for them, they have a pretty busy life I think.
Jiranee and I went to Hua Hin, for a short break. (In the night train to Hua Hin I received a text message from my brother in Holland: Germany lost from Spain in the WorldCup semi-final.)
6 July 2010: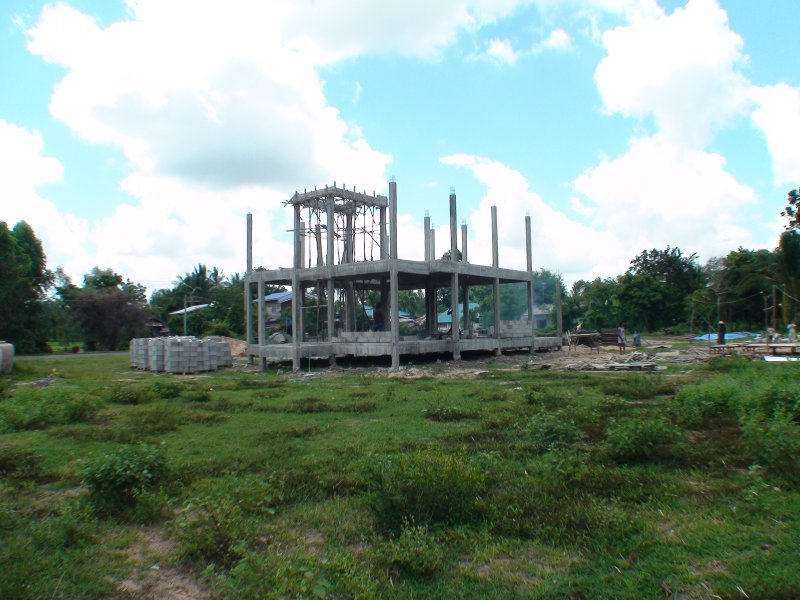 11 July: World Cup Final: Holland-Spain

In Hua Hin,
in the Nice & Easy beerbar
, we watched the final. All the ladies were asked to wear Orange. It didn't help us Dutch after all, but what an atmosphere!
15 July 2010: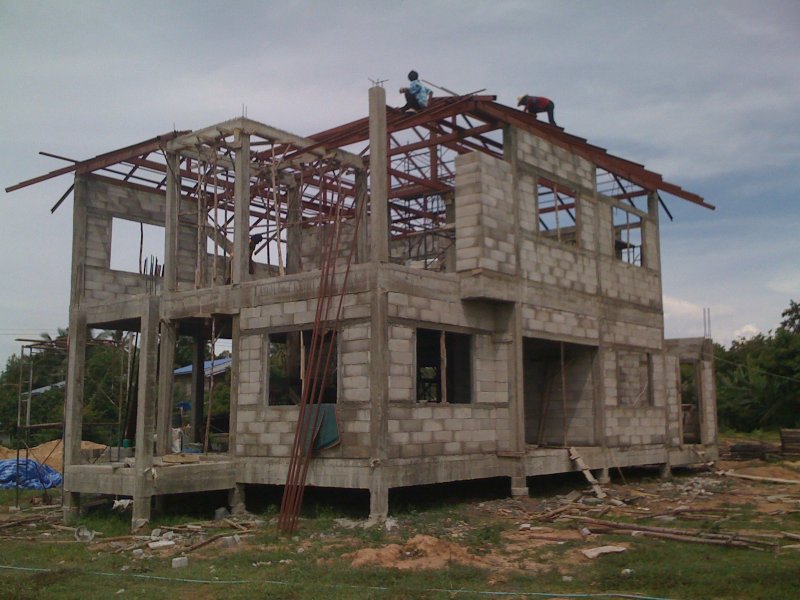 After we came back from Hua Hin, we were asked to do one more thing in our house: deciding where we wanted to have electric switches and sockets, powerpoints for washing machine, aircons etc.
We made an appointment with the installer for 20 July. We pointed out where we wanted switches etc., the installer signed on the wall so he knew later what and where.
At this moment we don't know exactly if and where we want to have aircon. Alan does not install aircon units, he only prepares wiring etc. To be on the safe side we said we wanted to have aircon prepared in the living room, the office, the 'karaoke' room upstairs and the master bedroom. In Holland we cook and an electric stove, no gas. We wanted the same in Thailand (except for the Thai kitchen, there my wife wants a gas stove).
Because all that equipment (if switched on simultaneously) takes a lot of power, mr Sparky adviced us to install 3 faze electric. I don't know much about this stuff, so I nodded. Well, I suppose it is a good decision, but the meter cost about 18,000 Baht, plus, instead of 1 underground cable we must have four of them, cost about 350 Baht per meter each... let's say 28,000 Baht for 20 meters? (An expensive little nod, indeed!). For the moment we have no alternative (except not going underground or not use 3 faze), so I'm afraid we... eh...
31 July 2010: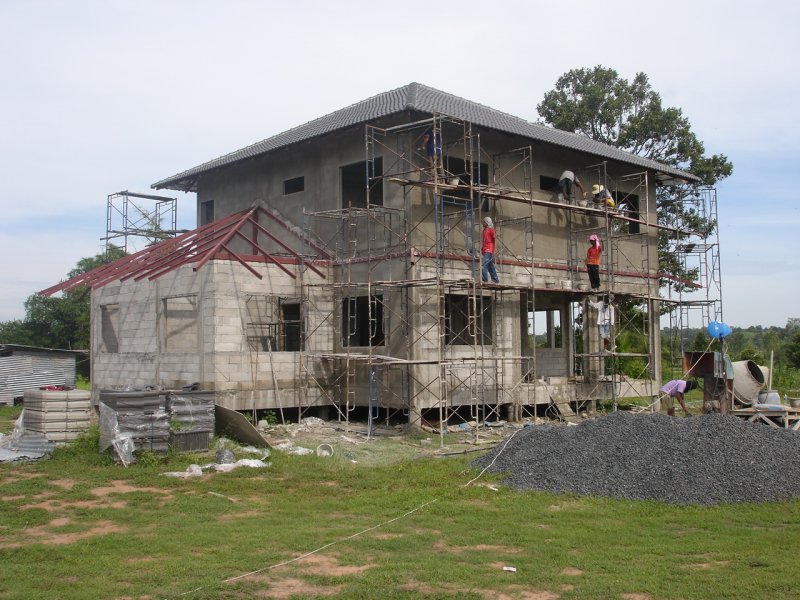 To be continued...
Last edited: